How to apply
To apply for any of the positions below, please use the email form on the specific job page. For any other employment enquiries, please contact our HR team on 01985 224300.
Technical Systems Manager
Location: Warminster | Salary: Competitive
An exciting opportunity to join our Technical team and design, develop, implement, manage and maintain a quality management system that embraces all activities of the Total Supply Chain function.
This system will follow, comply and embrace the ISO systems for the management of Quality, Food Safety, Health and Safety, Business Continuity and Environmental Issues.
A key requirement is that the system should be designed, implemented and managed to achieve the required standards through the audit of a qualified auditing body.
The system, a core system, will be maintained as an up-to-date living entity reflecting, and understood by everyone as the source of all knowledge on the way we do things now.

Read more & apply
Production Manager
Location: Warminster | Salary: competitive
Responsible for the day to day performance of our processing, production and packing departments, achieving target KPI's and in support of the Total Supply Chain team, delivering through performance, motivation and respect.
To pro-actively contribute and implement all aspects of company initiatives on systems delivering Food Safety, Quality, Legal Compliance, Health & Safety, Environmental Management and Business Continuity.

Read more & apply
Technical Manager
Location: Warminster | Salary: competitive
Under the direction of the Site Technical Manager, you will provide Technical support to the company, liaising with suppliers, customers and enforcement authorities on technical requirements. 
You will provide advice and support to the Production departments of Lyons Seafoods as required.
You will be able to work independently, be self motivated and analytical in your approach. You will have an eye for detail and be able to prioritise and identify key issues. You will have Integrity, be open, honest and  professional, you will treat customers and coleagues with respect.

Read more & apply
Technical Support Office - Systems
Location: Warminster | Salary: competitive
Supporting the Technical Systems Manager in maintaining the quality management systems that embraces all activities of the Total Supply Chain function.
To undertake technical inspections and tasks as required on site and ensuring appropriate documentation is retained.

Read more & apply
Management Accountant
Location: Warminster | Salary: competitive
We have an opportunity for a Management Accountant to join our team.
Reporting into the Financial Controller - Total Supply Chain Team you will be a CIMA Finalist or part qualified management accountant. You will manage the day to day accounting and reporting requirements for the TSC team, including Production and Distribution.
A key requirement of the role is to provide financial support to the TSC team by reviewing and reporting the operational costs and variances.
Read more & apply
Planning Manager
Location: Warminster | Salary: competitive
This is a fantastic new role for someone who has drive and ambition to take the Planning department to the next level.
Reporting into the Supply Chain Manager, the successful candidate will manage the Planning department. This role has a pivotal part to play in providing a 'best in class' function to the delight of our customers and key stakeholders and with respect to the Total Supply Chain team.

Read more & apply

Did you know?
Lyons Seafoods in now zero waste to landfill thanks to its association with Wiltshire Waste Recycling Ltd. All waste produced through our activities are whether recycled our used in the process of waste-to-energy.
WE EMBRACE CHANGE - in our response to different needs and opportunities we are flexible and have a sense of urgency. We commit to continuous improvement in all we do.
VALUE OUR PEOPLE - we respect each other, promoting learning, development and empowerment. We value all contributions and ideas, and celebrate individual and company successes
We regularly promote from within. Some of our technical, sales and product development managers started off packing prawns in the factory!
We run an employee recognition scheme. Colleagues at every level are eligible and are nominated by their fellow colleagues.
We have a Social Club, which for a small monthly fee, allows colleagues to attend sporting events, theatrical shows, family days out and other events for greatly reduced rates.
Our Team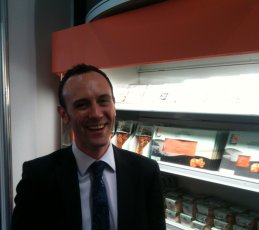 Vincent, our Head of Development, makes sure consumers can buy the best seafood in the most convenient ways!