How to apply
To apply for any of the positions below, please use the email form on the specific job page. For any other employment enquiries, please contact our HR team on 01985 224300.
Shift Engineers
Location: Warminster | Salary: £competitive
We are looking for 2 Shift Engineers to join our team

Read more & apply
SUPPLIER IMPLANT FOR CO-OPERATIVE FOOD
Location: Manchester & Warminster & Duns | Salary: £ competitive
You will work as an ambassador between Lyons Seafoods, Farne Salmon and Co-op
Read more & apply
PROCESS DEVELOPMENT TECHNOLOGIST x 2
Location: Warminster | Salary: £competitive
We are looking for two Process Development Technologists to work under the direction of our Technical Manager (Process Development)
You will participate in all new products from concept to launch

Read more & apply

Did you know?
Lyons Seafoods in now zero waste to landfill thanks to its association with Wiltshire Waste Recycling Ltd. All waste produced through our activities are whether recycled our used in the process of waste-to-energy.
WE EMBRACE CHANGE - in our response to different needs and opportunities we are flexible and have a sense of urgency. We commit to continuous improvement in all we do.
VALUE OUR PEOPLE - we respect each other, promoting learning, development and empowerment. We value all contributions and ideas, and celebrate individual and company successes
We regularly promote from within. Some of our technical, sales and product development managers started off packing prawns in the factory!
We run an employee recognition scheme. Colleagues at every level are eligible and are nominated by their fellow colleagues.
We have a Social Club, which for a small monthly fee, allows colleagues to attend sporting events, theatrical shows, family days out and other events for greatly reduced rates.
Our Team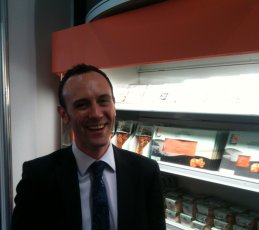 Vincent, our Head of Development, makes sure consumers can buy the best seafood in the most convenient ways!